There are loads of books I'm planning to read next year but for the purposes of this post I'm limiting it to those published in 2015.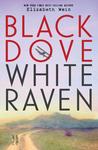 1. Black Dove, White Raven, Elizabeth Wein
I am so excited for this book — I love Wein's Aksum books, and I love her WWII books, and now here's something that's maybe a combination of the two? Lady pilots in Ethiopia? I would read anything by her, really, even though she continues to break my heart in new and exciting ways.
Emilia and Teo's lives changed in a fiery, terrifying instant when a bird strike brought down the plane their stunt pilot mothers were flying. Teo's mother died immediately, but Em's survived, determined to raise Teo according to his late mother's wishes-in a place where he won't be discriminated against because of the color of his skin. But in 1930s America, a white woman raising a black adoptive son alongside a white daughter is too often seen as a threat.

Seeking a home where her children won't be held back by ethnicity or gender, Rhoda brings Em and Teo to Ethiopia, and all three fall in love with the beautiful, peaceful country. But that peace is shattered by the threat of war with Italy, and teenage Em and Teo are drawn into the conflict. Will their devotion to their country, its culture and people, and each other be their downfall or their salvation?
2. Shadow Scale, Rachel Hartman
Sequel to Seraphina, which I lovedlovedloved. Totally new take on dragons, amazing ladies, and music. What's not to love?
The kingdom of Goredd: a world where humans and dragons share life with an uneasy balance, and those few who are both human and dragon must hide the truth. Seraphina is one of these, part girl, part dragon, who is reluctantly drawn into the politics of her world. When war breaks out between the dragons and humans, she must travel the lands to find those like herself—for she has an inexplicable connection to all of them, and together they will be able to fight the dragons in powerful, magical ways.
3. Get in Trouble, Kelly Link
I'll read anything by Kelly Link. Best short stories, period.
Hurricanes, astronauts, evil twins, bootleggers, Ouija boards, iguanas, "The Wizard of Oz, " superheroes, the Pyramids . . . These are just some of the talismans of an imagination as capacious and as full of wonder as that of any writer today. But as fantastical as these stories can be, they are always grounded by sly humor and an innate generosity of feeling for the frailty--and the hidden strengths--of human beings.
4. The Just City, Jo Walton
I always find Jo Walton's books interesting, even if I don't necessarily enjoy them. They're always different to what she's done before, so I'm intrigued to read this.
Created as an experiment by the time-traveling goddess Pallas Athene, the Just City is a planned community, populated by over ten thousand children and a few hundred adult teachers from all eras of history, along with some handy robots from the far human future—all set down together on a Mediterranean island in the distant past.
5. Princess Academy: the Forgotten Sisters, Shannon Hale
I've been finding Hale a bit hit and miss recently, but I enjoyed the first two Princess Academy books so I'm hopeful for this one.
Instead of returning to her beloved Mount Eskel, Miri is ordered to journey to a distant swamp and start a princess academy for three sisters, cousins of the royal family. Unfortunately, Astrid, Felissa, and Sus are more interested in hunting and fishing than becoming princesses.

As Miri spends more time with the sisters, she realizes the king and queen's interest in them hides a long-buried secret. She must rely on her own strength and intelligence to unravel the mystery, protect the girls, complete her assignment, and finally make her way home.
6. The Curious World of Calpurnia Tate, Jacqueline Kelly
Callie's younger brother Travis keeps bringing home strays. And Callie has her hands full keeping the animals—Travis included—away from her mother's critical eye.

When a storm blows change into town in the form of a visiting veterinarian, Callie discovers a life and a vocation she desperately wants. But with societal expectations as they are, she will need all her wits and courage to realize her dreams.
7. Displacement, Lucy Knisley
In a book that is part graphic memoir, part travelogue, and part family history, Knisley not only tries to connect with her grandparents, but to reconcile their younger and older selves. She is aided in her quest by her grandfather s WWII memoir, which is excerpted.
8. Ariol: A Nasty Cat, Emmanuel Guibert
Always adorable and funny.
9. Jessica Darling's IT List 3, Megan McCafferty
In Jessica Darling's It List 3, Jessica faces the potentially mortifying outcome of the Top Secret Pineville Junior High Crushability Test. Plus, she's kind of stuck in the middle, as smarties and skaters unite to collect signatures on a petition to bring back the school's annual dance. Will the dramarama of seventh grade be Jessica's downfall? Not if she can help it.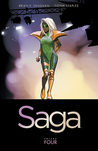 10. Saga, Brian K. Vaughan
Okay, technically this was published this year, but I haven't managed to get my hands on it yet.
Visit new planets, meet new adversaries and explore a very new direction, as Hazel becomes a toddler while her family struggles to stay on their feet.
Books/authors I haven't read before but sound interesting: